From a marketing manager:
In an age where visual appeal has never been more important, the quintessential question arises - what makes a great marketing image? Every time I'm handed a photograph, especially one taken by a professional, I look for a few hallmark qualities that have the power to transcend the ordinary and captivate an audience.
Take for instance the photograph of "IMPASTO Pizza Bar". At first glance, it's evident that this is not just any ordinary snapshot. It embodies the core qualities that set professional photographs apart.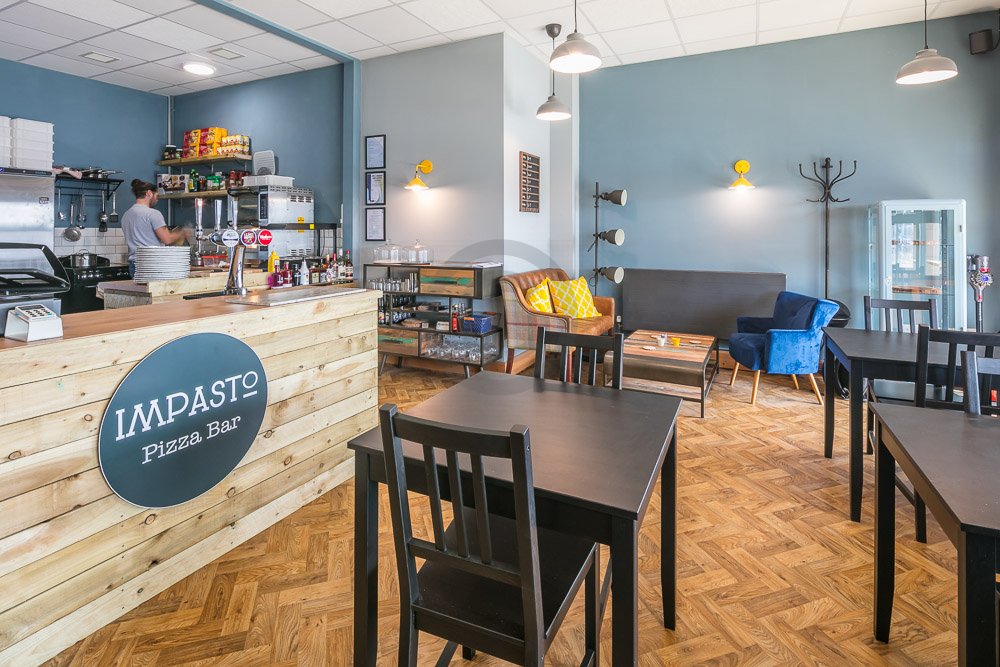 Clarity and Precision: One of the standout features of a great marketing image is its clarity. Every element in the image, from the neatly stacked pizza boxes to the textured wooden surfaces, stands out with precision. It doesn't just show you the scene; it invites you to feel the ambiance, to hear the soft hum of conversation, and to smell the aroma of freshly brewed coffee.

Strategic Composition: A professional photographer knows that composition is key. In the image, the positioning of the "IMPASTO Pizza Bar" sign and the counter creates a balanced focal point. It offers a narrative, guiding the viewer's eyes from the hustle and bustle of the coffee machine, past the bar and onto the inviting seating area.

Effective Lighting: Lighting can make or break an image. Here, the blend of natural and artificial light creates a warm, inviting atmosphere. There are no harsh shadows, just a gentle luminescence that accentuates the café's cozy yet chic aura.

Brand Emphasis: For a marketing image, brand recognition is paramount. The prominently displayed cafe name not only emphasizes the brand but also merges seamlessly with the aesthetics of the photograph.

Authenticity: While staged photographs have their place, there's an undeniable charm in authenticity. The employee engaged in his work behind the counter lends the image a candidness, showcasing the café in its natural, bustling state.

Emotion Elicitation: Great marketing images evoke emotions. The blend of calming blue tones, the inviting seating, and the promise of a warm beverage all collaborate to create a sense of comfort, relaxation, and homeliness.
In conclusion, a great marketing image, like this one of "IMPASTO Pizza Bar", is more than just a picture. It's a harmonious blend of composition, clarity, lighting, branding, authenticity, and emotion. It tells a story, evokes a feeling, and most importantly, leaves an impression. As a marketing manager, I can attest to the unparalleled value of such images in conveying our brand's essence, communicating our values, and resonating with our audience. The work of a professional photographer, in this regard, is truly an investment in our brand's visual narrative.