Any hotel owner, particularly in the UK, is acutely aware of the fierce competition in the hospitality industry. A hotel isn't merely rooms and corridors – it's an experience. And, capturing the essence of that experience is fundamental to enticing potential guests. Thus, when they commission a photographer to capture images of the property, there are a number of essential elements they expect them to encapsulate to create a compelling property marketing image.
Take the photograph of this exquisite dining area, for example.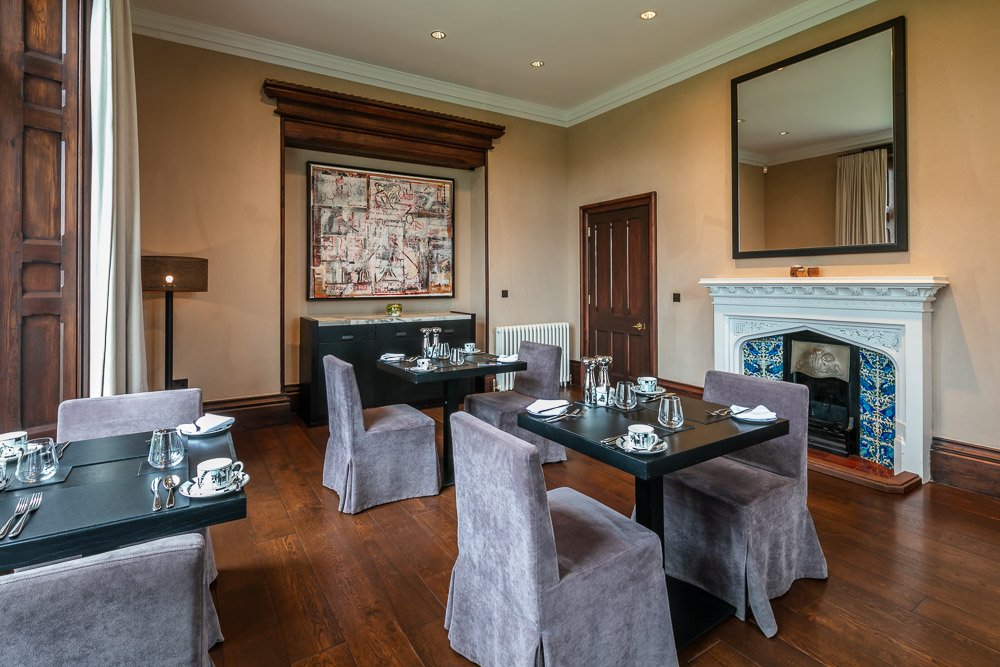 Capturing the Ambience: A great property image needs to convey the atmosphere of the space. Here, the rich hues of the wooden floors, the plush velvet of the chairs, and the gentle lighting come together to paint a picture of a sophisticated and welcoming dining experience.

Attention to Detail: Every little detail matters. From the gleaming silverware to the intricately designed fireplace, a professional photographer should have the keen eye to ensure all elements are pristine and presented to their utmost potential. The subtle blue tiles of the fireplace, set against the muted tones of the room, offer a touch of luxury, which might be easily overlooked if not highlighted correctly.

Strategic Composition: The arrangement in the image should guide the viewer's eye. The artwork, for instance, acts as a brilliant focal point. But, the addition of elements like the large mirror not only give depth to the space but also showcase the room's spaciousness.

Natural Lighting: In the UK, with its oft-grey skies, making the most of natural light is paramount. Here, the tall window, with its sheer curtain, softens and diffuses the light, filling the room with a warm glow, making it appear inviting and serene.

True Representation: While it's tempting to overly enhance or doctor images, authenticity is crucial. Potential guests should be met with what they've seen in photographs upon their arrival. The image captures the genuine elegance of the dining area, setting realistic expectations.

Highlighting Unique Features: Every property has features that set it apart. The distinctive fireplace, the artwork, and the period detailing in this image speak of character and history, and it's essential these are captured and celebrated.
In summary, when a property owner seeks the services of a professional photographer, they are not just asking for photos; they are seeking a visual storyteller. The right image can evoke a sense of place, allure, and comfort, compelling travellers to choose their hotel to stay in. In a marketplace where first impressions often come from digital platforms, a great property marketing image is not just desirable – it's indispensable.